Situation Update
---
Since December 2013, there has been a constant flow of new arrivals to the emergency Protection of Citizens camp (PoC) in Malakal, with the present estimated population at 47, 791 people. Arrivals to the camp have been displaced from their homes, looking for protection from conflict within the country.
On the night of 17th February, 2016, those taking refuge within the camp were again exposed to fighting, as armed conflict broke out within the site itself. In its wake, a barrage of destruction and displacement has further increased the vulnerabilities of an already vulnerable population. The unrest resulted in the deaths of at least 18 people, injuries among almost 100 more and burning of significant sections of sectors 1, 2 and 3. Approximately 24, 000 people fled to the UNMISS base and another 4, 000 to Malakal town. The remainder of the population that deserted their shelter now occupy the extremely overcrowded part of sector 1. In total, two primary health care facilities and a pharmacy were destroyed in the fires and were looted. The primary health care units have since been re-established to respond to the crisis.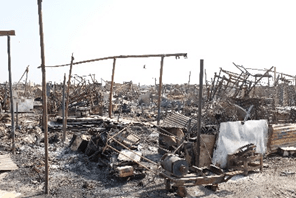 The situation is now critical in Malakal PoC. These recent developments have led to more than half of the PoC population being without adequate shelter, thereby exposing them to an increasing number of Anopheles mosquito bites. This could lead to an increase in malaria incidence in a very short period of time, if mitigating actions are not put in place. Increased caseloads of malaria, exceeding anticipated numbers for this time of year, are highly likely. Action therefore needs to be taken now. With increasing potential for malaria transmission, the reservoir of malaria among people and mosquitoes could reach unseasonal highs that may lead to a repeat of the unprecedented epidemics that were witnessed during 2015. Therefore sustained malaria prevention activities are imperative and should be an absolute priority in response to this current situation.
These recent events within the camp have resulted in significant damage to a number of sectors within it, as a direct result of fires. The majority of those within the UNMISS base currently have no adequate form of shelter whatsoever. Some people are living in drainage ditches and MENTOR's recent assessment has indicated that mosquito larvae are present in the immediate area with standing water acting as mosquito breeding sites. UNMISS would like this population to return to the PoC as soon as possible However, some people are understandably apprehensive about returning to the PoC and the exact process by which shelter reconstruction will take place is still to be determine.