South Sudan is landlocked in Eastern Central Africa and home to more than 12.5 million people and has been classified for the second year running as the most fragile state in the world. Some of the many reasons for this fragility include armed conflict, inter-communal violence, economic decline, disease, and climate shocks, resulting in some of the world's poorest health and development indicators. Since December 2013, after only two years of independence, South Sudan has been locked in conflict. The severity of the crisis has led to thousands of lives being lost directly through fighting and indirectly through disease (among other causes). Since the outbreak of the crisis, 2.4 million people have become displaced, including 786, 100 who have fled to neighboring countries, leaving 1.61 million others internally displaced. This has resulted in a nation that is now suffering from severe hunger and malnutrition, with one in three children characterised as acutely malnourished.
Recent events in Juba (July 2016) have further destabilsed the country, resulting in many leading INGOs either evacuating their staff or reducing to skeleton teams. More than 6.1 million people are currently estimated to be in need of assistance. There is an ever increasing need for the humanitarian community to rapidly upscale its efforts in order to address the critical situation in South Sudan.
South Sudan - Public Health Crisis
South Sudan is facing a public health crisis. It suffers a heavy burden of malaria which is made worse by conflict and displacement, Displaced people are particularly vulnerable to communicable disease, as exemplified by the increase in malaria outbreaks in recent years, in particular in the country's camps for internally displaced persons (IDP), the Protection of Citizen Camps (PoCs). This disease has crippled more communities across the country than any other, with more than two million cases recorded in 2015. Malaria remains the top public health priority in South Sudan.
MENTOR'S Approach
The MENTOR Initiative aligns its approach with the WHO Integrated Vector Management (IVM) strategy and effective malaria case management.
The IVM package combines vector breeding site reduction and control ( with WASH activities focused on surface water treatment, hard and soft waste management, and behaviour change). and direct protection from infection, including the implementation of:
Indoor Residual Spaying (IRS): interior walls of human and animal shelters are sprayed with insecticide to ensure 6-9 months' control of malarial mosquitoes and other household insects.
Larviciding (Larval Source Management): regular treatment of open surface water in the camps that otherwise provides a breeding site for malaria (Anopheles) mosquitoes and containerized water (drums, used tyres etc.), the preferred breeding site for mosquitoes (Aedes) that are capable of transmitting dengue and yellow fever.
Distribution of LLINs (Long Lasting Insecticidal Nets) : sleeping under LLINs gives communities additional personal protection from mosquitoes that transmit malaria and lymphatic filariasis, and other night biting insects (including sandflies that transmit leishmaniasis).
Information Education Communication (IEC) messaging: teaching safe vector borne disease practices.
MENTOR in South Sudan since 2012
The MENTOR Initiative began partnering with the Government of South Sudan and its country partnership of UN, NGOs and FBO organisations in 2012, in order to find effective, timely and scalable solutions to vector borne disease control. In particular, efforts have been made to reduce the heavy burden of malarial disease amongst the most vulnerable displaced and isolated communities affected by conflict and flooding, while also working to mitigate the risk and impact of malaria epidemics. To date, MENTOR has focused support on communities in Warrap, Abeyi, Upper Nile, Lakes and Unity states.
Bentiu PoC, Rubkona- Former Unity State
The  MENTOR IRS campaign, supported by UNICEF, for 2016 in Bentiu PoC was completed in July, reaching a total of 92, 647 IDPs. During this season, MENTOR treated a total of 5, 841 mosquito breeding sites as part of its Larval Source Management (LSM) campaigns. A fly control campaign commenced in September, treating 4,756 breeding sites.
Malakal PoC, Former Upper Nile State
The MENTOR IRS campaign, supported by UNICEF, for 2016 in Malakal PoC was completed in July, reaching a total of 41, 172 IDPs. During this season, MENTOR treated a total of 317 mosquito breeding sites as part of its Larval Source Management (LSM) campaigns.A fly control campaign commenced in September, treating a total of 986 breeding sites. MENTOR has donated a total of 9, 000 RDT tests to health facilities within the PoC.
Maban County, former Upper Nile State
Between June 2015 and end of August 2016, MENTOR, with support from BPRM, trained 92 health care providers in vector borne disease case management. MENTOR also conducted two rounds of IRS in this time, treating shelters for 145, 618 refugees who were also reached with MENTOR IEC campaigns. Five rounds of LSM were completed, treating 10, 842 breeding sites. Fly control campaigns treated 21, 371 breeding sites.
During this time, MENTOR donated items to four refugee camps in Maban County as follows:
| | |
| --- | --- |
| Items donated | Cumulative quantity |
| Malaria RDTs | 52,800 Tests |
| Artesunate Inj. | 17,200 Vials |
| ASAQ Tablets | 90,200 Treatments |
| Dengue RDTs | 75 Tests |
| Chikungunya RDTs | 100 Tests |
| VL RDTs | 96 Tests |
| SP (Fansidar) Tabs | 8,000 Tablets |
Cholera Response
The turbulent situation in South Sudan provides the perfect conditions for disease outbreaks, as exemplified by the current cholera situation. The first cholera case was reported on 3rd July 2016 in Jonglei state, by 13th October 2016, 2,526 cholera cases, including 38 deaths had been reported in South Sudan. Control of the current cholera outbreak is a top Health an WASH Clusers priority. As a result of the political crisis in July, many implementing partners were evacuated, but the MENTOR Initiative remained in the country, and was requested by Rapid Response Fund to mount a response to address the increase in cholera cases in Juba. Well versed in the delivery of effective WASH IEC/ Hygiene Promotion tools/ materials, MENTOR has been providing a package of hygiene promotion activities in selected communities in Juba. Community Hygiene Promoters (CHPs), trained and supported by MENTOR, are delivering key cholera messaging to community members.
It was Global Hand washing Day on 15th October 2016 and MENTOR launched its school hygiene promotion activities in two schools in Juba. A total of 600 pupils and 6 teachers participated in the celebrations at Gumbo 3 Basic School while 360 pupils and 5 teachers participated at Gumbo Basic School.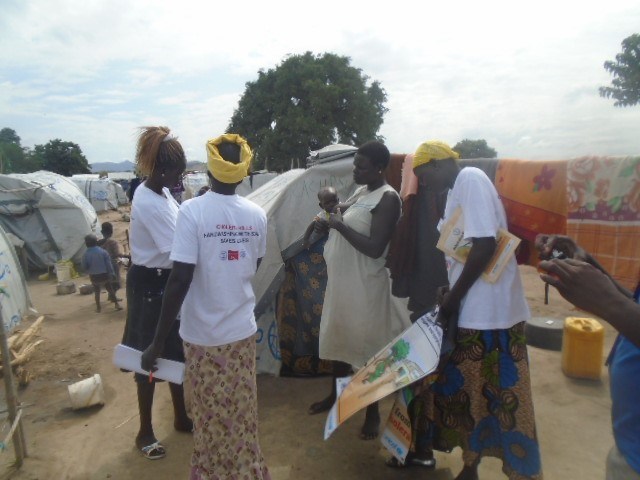 IOM Supported Activities and Key Highlights to Date:
MENTOR has trained 110 Community Hygiene Promoters.
MENTOR reached 54,758 community members with its hygiene promotion messaging between September and October 2016.
MENTOR celebrated this year's Global Hand Washing Day with a "Making hand washing with soap a habit'' theme in two schools, reaching a total of 860 pupils.
120 T-shirts bearing cholera prevention and response messages were distributed along with 75 posters which were displayed at strategic locations.
The heads of six schools have been contacted and their schools earmarked for setting up Hygiene Clubs with the aim of devising child friendly Hygiene Promotion packages.
Formation of Hygiene Clubs in schools was launched in the project location with a training of 40 selected pupils and a teacher of Gumbo Primary School
Page last updated 03/11/2016
LATEST NEWS
RELATED LINKS