Syria
Since August 2013, the MENTOR Initiative has been supporting the control of cutaneous leishmaniasis (CL) and visceral leishmaniasis (VL) in Syria. Communities are increasingly displaced and infrastructures destroyed, creating a fragile existence in which to survive with limited access to routine health services.
Disease incidence increases in communities as situations worsen, no less so in the northern parts of Syria. Six years of conflict – described as the worst humanitarian crisis since World War II -has resulted in perfect conditions for the transmission of CL and VL. The MENTOR Initiative has found innovative ways to tackle this most pressing health issue.
What is Leishmaniasis?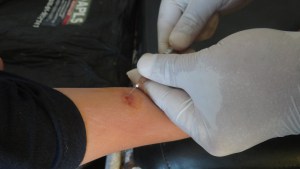 Leishmaniasis ('Aleppo boil') is transmitted by the bite of an infected female phlebotomine sandfly. The Leishmaniaparasite can enter the bloodstream and invade the macrophage immune cells of a bitten human host. This parasitic activity results in open sores around the bite. There are three types of leishmaniasis, caused by different Leishmania species:
1.       Visceral leishmaniasis (VL, kala-azar) which is fatal if left untreated.
2.       Cutaneous leishmaniasis (CL) which is the most common, causing skin lesions that can be self-resolving but if untreated can lead to mucocutaneous lesions.
3.       Mucocutaneous lesions can lead to partial or total destruction of the mucous membranes of the nose, mouth and throat cavities and surrounding tissues.
Leishmaniasis in Syria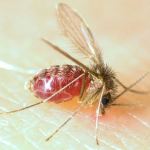 Cutaneous leishmaniasis is often associated with malnutrition, population displacement, poor housing and weakened immune systems, all widespread across Syria. Leishmaniasis is a huge public health concern: it is endemic in many areas and in some is the most prevalent communicable disease.
MENTOR's response
MENTOR adopts a multi-pronged approach to combating vector borne diseases such as leishmaniasis, which can provide cross-cutting benefits. This includes indoor residual spraying (IRS) on the inside surfaces of camp shelters and urban buildings in which people live, in order to kill resting sandflies. Long lasting insecticidal nets (LLINs) and curtains (LLICs) are being distributed to people living in more rural settings to protect them from sandfly bites. Waste management, particularly in urban settings, helps to reduce sandfly breeding sites. All of these activities are supported by contextually appropriate education and communication.
Treatment for CL includes intra-lesional injections of glucantime or pentostam for first line treatment. However, administration of intra-lesional injections is painful and requires well-trained and well-equipped health workers. MENTOR trains health workers in high transmission areas and is providing technical and material support to health facilities to ensure access to effective treatment services for a population of approximately 4.1 million people.
Through the uniqueness of MENTOR's services, highly successful and effective disease control has been achieved within some of the most challenging settings.
LATEST NEWS
Leishmaniasis unleashed in Syria – Read the Lancet article and see how MENTOR are controlling this disease of conflict
"Leishmaniasis unleashed in Syria" – The Lancet
The team with sandfly and tissue samples. These will be used in groundbreaking research with Ege and Haceteppe University, helping to evolve Leishmaniasis prevention strategies .